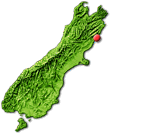 Kaikoura
Kaikoura
Kaikoura is located about half way between Christchurch and Picton. The township is situated on a flat in between two mountain ranges extending right to the sea, and the beautiful road leading into it twists itself around the coast and tunnels through the mountain ranges, while the TranzCoastal train ride offers magnificent view and a relaxing ride. This stunning combination of rugged coastline and grand mountains reveals yet another of the South Island's magnificent natural wonders.
Kaikoura's best known attraction is its wildlife. The Kaikoura Peninsula to the south of the township creates currents that draw in marine life from a trench deep in the Pacific Ocean. The name Kaikoura literally means food - kai, and crayfish - koura, an industry that continues to thrive in the region thanks to this natural phenomenon.
Most famous though are the whales that frequent the waters off the coast. Sperm Whales reside here year-round; in fact sightings are so frequent that some whale watching operators will provide a refund in the unlikely event of not spotting one.
Every whale watching trip is unique, as there are all sorts of marine creatures you could encounter. Humpback, Pilot, Southern Right and Blue whales can sometimes be seen migrating, and often you'll see pods of Dusky dolphins, these can be anywhere between a few and a few hundred! If you're really lucky you may see a small pod of Orca (Killer Whales), the largest of the dolphins, or the smallest and rarest the Hector Dolphin. Also highly popular is the opportunity to swim with the dolphins here.
High up in the surrounding mountains are the nesting grounds for a huge variety of seabirds including an assortment of species of albatrosses, petrel and shearwaters.
A large colony of New Zealand Fur Seals make their home the shoreline of the town and its surrounding area. When the tide recedes the seals claim the rocky shores which can be easily explored on foot, just don't get too close! Sometimes fur seals can be seen from your whale watching boat too, travelling in pods of about 30.
---

Featured Kaikoura Events
---
Tour Kaikoura

Tour Kaikoura Area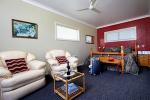 Austin Heights Scenic Bed & Breakfast
- Apartment, Bed and Breakfast, Luxury Accommodation.
Austin Heights is situated in a peaceful setting, surrounded with prize-winning gardens, and has a spectacular View of...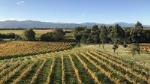 Winter Wine Gourmet and Scenic Pleasures of Marlborough: Group Tour
- Wine Tour - Blenheim.
Starting from $115.00 per person
.
Winter in New Zealand - What a great time to come! The sensational wines, the golden glows of the vineyard landscapes,...