Kaikoura Street View
Use the - and + on the first map to zoom in and zoom out.
Drag to position on the area you are interested in.
Drag the yellow peg man figure and blue lines will appear on streets that have a Street View.
Drop the yellow peg man figure on a blue line to get a Google Street View of that street.
The street view is shown beside the map or below the map.
Kaikoura Central Map
Kaikoura Driving Directions
Kaikoura Maps
Kaikoura Satellite View Maps
Tour Kaikoura

Tour Kaikoura Area
The Fairways at Ocean Ridge
- Apartment Hotel.
Located opposite Pacific Ocean Beach, The Fairways at Ocean Ridge offers free WiFi and 360 degree panoramic views of...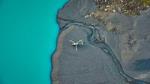 Premier Helicopter Whale Watch
- Dolphin & Whale Watching - Kaikoura.
Starting from $650.00 per person
.
Soar above it all on our longest and most exclusive helicopter tour for an unforgettable adventure viewing amazing...